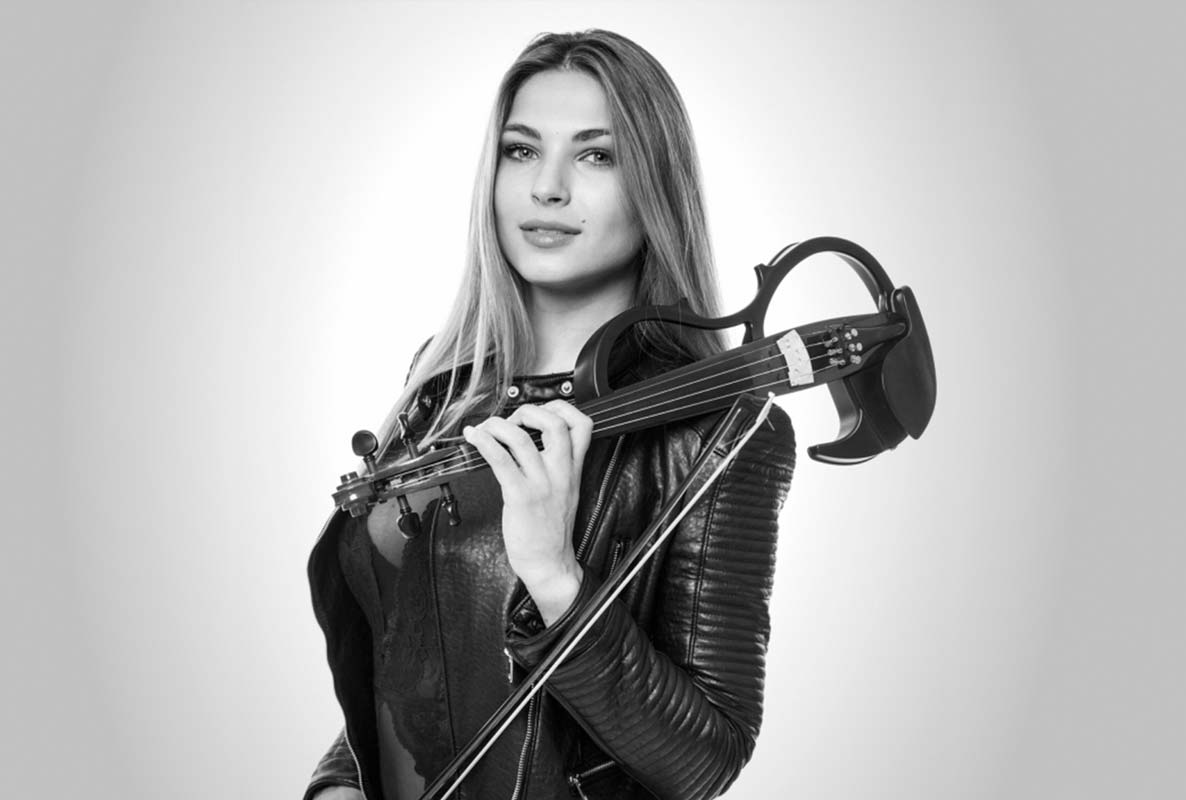 Biography
---
Summary:
MARISHA is a newcomer and exceptional talent in the electronic music scene. She is both a DJ with groovy and melodic sounds and a popular live act as a violinist at international festivals, shows, and concerts. She has performed with artists such as Robin Schulz, Mousse T, and Graham Candy and is a resident DJ/Live-Act at events like World Club Dome, Space Club Kitchen, and White Pearl Mountain Festival. Her energetic DJ sets with her E-violin performances create emotional moments.
Full Bio:
Marina is a professional violinist from Munich with a home base in Austria and Ibiza. With her electric violin, she travels the world and captivates her fans and clients with her unique performance and fantastic stage presence. She is internationally booked for exclusive events, from private parties to popular festivals and concerts. Her repertoire includes a diverse mix of genres such as classical, fusion, pop, jazz, and house. Additionally, Marina possesses the special ability of live improvisation.
With her exceptional sense of electronic music, Marina regularly performs with well-known DJs such as Mahmud Orhan, Paul Lomax, Tom Novy, and Nakadia.
A special highlight in her career so far was her collaboration with the InTone Bookings Agency. Through this, Marina accompanied the world-famous DJ Robin Schulz as a special live act on his Arena Album Tour through Germany. "It's an indescribable and emotional feeling when you perform on a stage in front of 10,000 people and everyone celebrates together. Pure goosebumps," Marina said after the concert with Robin Schulz on September 30, 2017, at the Olympiahalle Munich.
Another personal success in 2017 was the opening show of the Kreisel Electric Headquarters in Austria. With her self-composed intro show, she was allowed to stage the appearance of guest of honor Arnold Schwarzenegger. Among the 1,500 invited guests were also the Austrian President and Vice President.
Marina is also a member of one of the currently highly sought-after projects in the event business called Endless Entertainment. Here, unique and exclusive shows are created individually according to customer requirements. The music concept includes a fusion of electronic music such as house, funk, dance-house, in combination with live artists. Marina performs there together with well-known singers, saxophonists, guitarists, and other musicians from all over the world to the sound of top DJs. With "Endless," Marina has recently performed at numerous major events, including:
· White Pearl Mountain Days Festival – Saalbach-Hinterglemm (Austria)
· FIVB Beach Volleyball World Championships – Vienna
· World Club Dome / VIP Aftershow Party – Commerzbank Arena (Frankfurt)
· World Club Cruise – TUI "Mein Schiff2" with BigCityBeats
· Hahnenkamm Races / VIP Aftershow Party – Kitzbühel
· Formula 1 Final 2017 / Paddock Club VIP Area – Abu Dhabi (United Arab Emirates)
· Guest appearances for TUI "Mein Schiff 5" in the United Arab Emirates
Marina is a passionate musician whose style is described as energetic, emotional, entertaining, and above all authentic. "Without music, life would be a mistake."
---